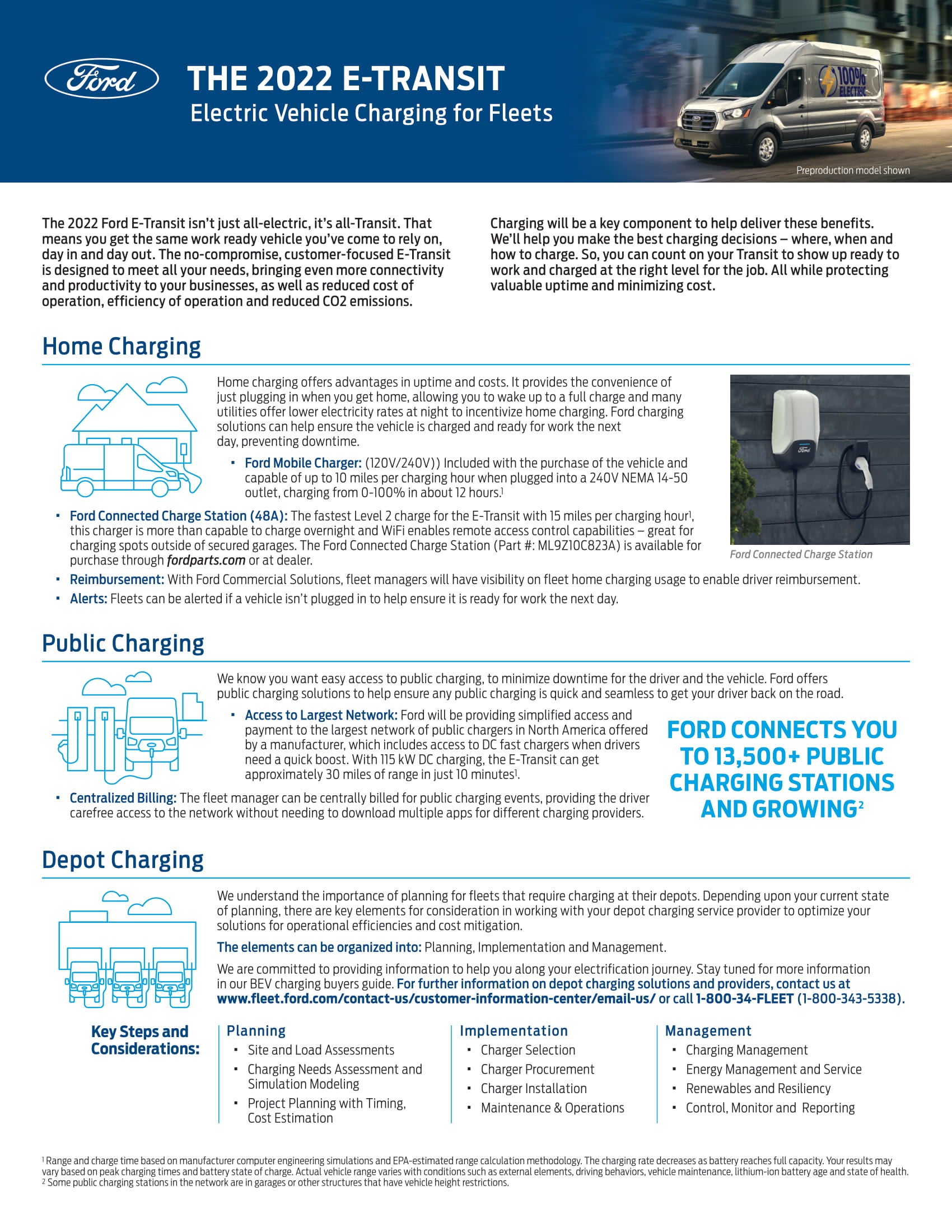 5
Charging your E-Transit can be done using depot chargers, public chargers or even right at home with the 240V Ford mobile charger. Read on for more.
---​
Backed by the largest public charging network in North America,* we are offering an ecosystem of charging solutions to meet all your charging needs. Whether your fleet of vehicles is at the depot, on the road or at home, we have you covered.
DEPOT CHARGING
When planning to convert your fleet to all-electric, it's good to have someone to help you create a plan to optimize uptime and improve efficiency. Ford is a trusted partner that understands that there is no "one size fits all" solution for preparing your infrastructure to be ready for charge management. We are committed to being here to provide the needed information to help you along your charging journey.
PUBLIC CHARGING
We offer solutions to making charging on the go easier:
Access to North America's largest public charging network* eliminates the need to register with multiple charging networks or download multiple apps.
Our available Connected Built-In Navigation allows you to access real-time charging station info.
When you arrive at the charging station, our Plug and Charge feature automatically accesses vehicle and payment info just by plugging in.
With 115kW capability, E-Transit can add an estimated 45 miles of range in 15 minutes** (Cargo Van low-roof models) at DC fast chargers to get you to your next destination quickly.
Ford Commercial Solutions can help you manage your fleet's activation and payments and give you access to charging data to control costs and ensure maximum uptime.
HOME CHARGING
We offer an array of solutions to charge your fleet at home and deliver a full charge overnight:
The 240V Ford mobile charger, standard with the vehicle, offers 10 miles per charging hour (Cargo Van low-roof model). **
For fleets with faster charging needs, Ford will offer a 240V-48A Ford Connected Charge Station that offers 15 miles per charging hour (Cargo Van low-roof model). **
Ford Commercial Solutions can help manage your home fleet with features like charge usage data to support driver reimbursement and alerts if a vehicle isn't charging, plus remote control of the Ford Connected Charge Station.